Autumn 2 Week 5 (WB 30/11/20)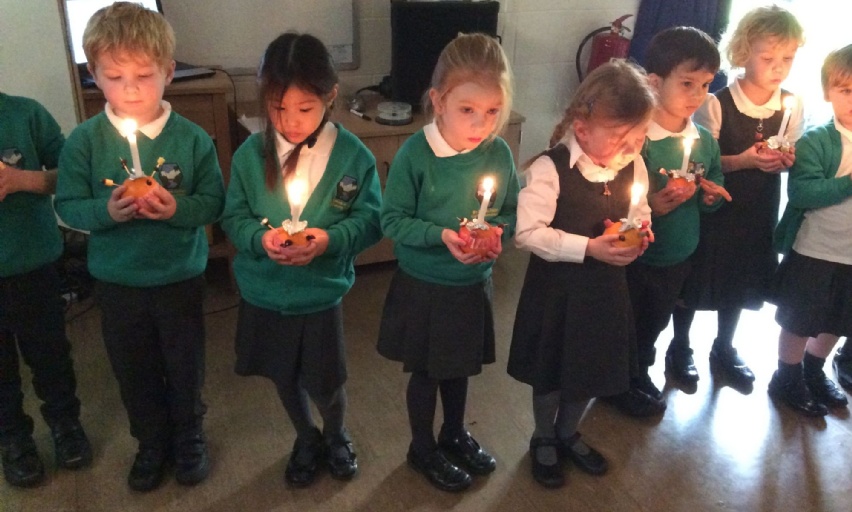 What an exciting week we have had!
Owls have had such a brilliant week this week. Full of brilliant learning, lots of fun and our brilliant Christingle service today!
Owls have had fun with their learning in maths and phonics this week and we have finished Phase 2 sounds! We are working hard at using those sounds to blend and segment within our reading. Keep practicing this at home too!
Today we created our Christingle oranges and we were brilliant at being very sensible with the cocktail sticks and candles. We learnt all about what each part of the Christingle means so that we could understand what we had made and why. We then had a Christingle service this afternoon, where we joined our bubble of Year 1 and 2 to celebrate. We all held our Christingles and Miss Reed lit them one by one. We were amazing at holding our Christingles whilst they were lit! A very proud Owls moment today.
Star of the Week:
Our star of the week this week is ... Oscar L! Well done Oscar. You have been making super choices all wekk and have tried your best, particularly in maths! Look after Oliver the owl :), I know he will have a fabulous weekend.
Christmas Card Name Lists:
Many parents have asked for a class list of first names for Christmas card writing. As much as we understand the reasons behind this request, I'm afraid for GDPR purposes we are not handing out class lists. If you wish to write individual cards for the class, please leave a generic message such as ' Merry Christmas, Love from ____' . I will ensure that each child gets given a card from you, if you wish to do that. If the children remember their friends names then feel free to write their names on the cards :). Sorry for any inconveniences.
Reverse Advent Calender:
Thank you so much for the donations we have received so far for our Reverse Advent this year. When your child is chosen they will be sent home with a slip explaining what they can bring in for our advent box.
Reminders:
Reading books must come in each day with reading records as we read regularly with the children.
Please label school clothes and jumpers etc. I have a huge pile of no named jumpers/cardigans in the classroom.
Next Friday is Christmas dinner/Christmas jumper day. We are very excited for that!
I mistakenly forgot to hand back out the homework folders today with the excitement of Christingle! I shall give them out on Monday.
Thanks for another brilliant week Owls! Have a wonderful weekend, stay safe and I will see you on Monday!
Love,
Miss Reed x