Summer Term Week 5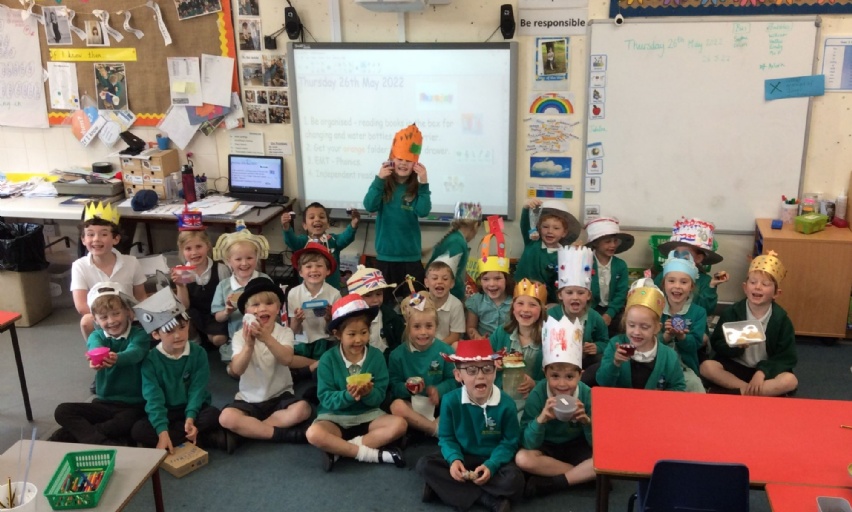 Art Week and Jubilee Celebrations
This week in Y1, we've all really enjoyed our stimulating, creative and fun learning to finish the term.
Falcons were introduced to Ollie the Octopus who was reading a book called "The Problem with Humans". We discussed what could be inside the book which then enabled us to learn more about the impact of humans on our planet. In response to a poem called "Dreamer", Falcons wrote their own lines and verses about what they dreamt our world should be like. Some examples: I dreamt that I was a rhino and no-one took my horns. I dreamt that I was a whale and no-one hunted me.
As a team, Falcons created a large Octopus using recycled materials to print and decorate with paint. After reading the book "One World" by Michael Foreman, Falcons then produced their own special underwater world/scene using charcoal pencils. Other books we shared included: Colin the Crisp Packet, Captain Green and The Plastic Scene and Turtle in a Tangle. Please see the attached photos below.
Despite such a busy week, we still made time to meet up with our Y6 reading buddies. This will continue after half-term as it's having such a positive impact on all the children.
Thank you for helping to decorate the amazing array of hats and cakes for today's Jubilee picnic celebration. Falcons enjoyed eating al fresco and being entertained by other year groups as they performed a variety of songs and music. It was a super special day for everyone!
There isn't any home learning for the holidays. However, we'd really appreciate you supporting your Falcon by reading regularly or enabling them to play phonics games online.
PE will now be on MONDAYS and FRIDAYS in term 6.
We have three sessions of Forest School organised: Weds 8th, 15th and 22nd June.
Have super holiday and enjoy the Jubilee celebrations wherever you may be!
Miss Brown and Mrs Boyd