2012-13
How is Pupil Premium Funding spent 2012-13?
During the financial year 2012-13, By Brook Valley Primary School received £7,726 in Pupil Premium funding. This was spent as follows: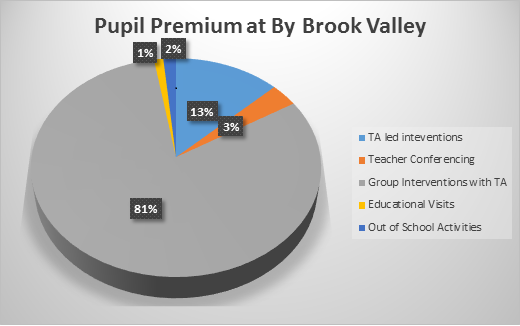 What does the funding provide?
1:1 TA led Interventions
Our teaching assistants work with children one to one using specific intervention programmes. These children can be from a range of vulnerable groups who are not attaining or progressing as expected.
Group Interventions led by TAs
All TAs across the school lead interventions which target children who are not progressing or attaining as expected. They liaise with class teachers and the Inclusion Leader to ensure objectives are matched to gaps and that effective feedback is given.
School Trips and After School Clubs
We fund residential and other educational trips for children in receipt of the Pupil Premium. We also fund after school clubs for some pupils to allow them to have equal access.
How is the impact measured?
The impact of Pupil Premium funding is measured in the following ways:
All vulnerable children (including FSM children) are closely monitored throughout the year via three Pupil Progress Meetings. During these meetings all teachers meet with a member of the Senior Leadership Team and discuss any child considered potentially vulnerable or underachieving and agree strategies to close this achievement gap.
Mrs Stevens tracks the progress and attainment of all children receiving an intervention and all children from vulnerable groups. The impact of intervention is discussed at regular pupil progress meetings throughout the year. Progress and attainment is summarised at the end of the academic year for all vulnerable groups.
The Assessment Leader, provides data analysis reports to the Governing Body in September which include comparative data on the performance of FSM children against that of their peers.
A written report on the impact of Pupil Premium funding is provided to the Governing body annually.
Specific Impact of funding for 2012-13
6 children out of 12 pupils achieved good progress during the academic year. 4 out of 12 pupils achieved expected progress by July 2013. 1 pupil left the school mid year. 1 pupil improved social communication skills and received a statement of special educational needs and moved to another school.