Week 4 (week of 21/9/20)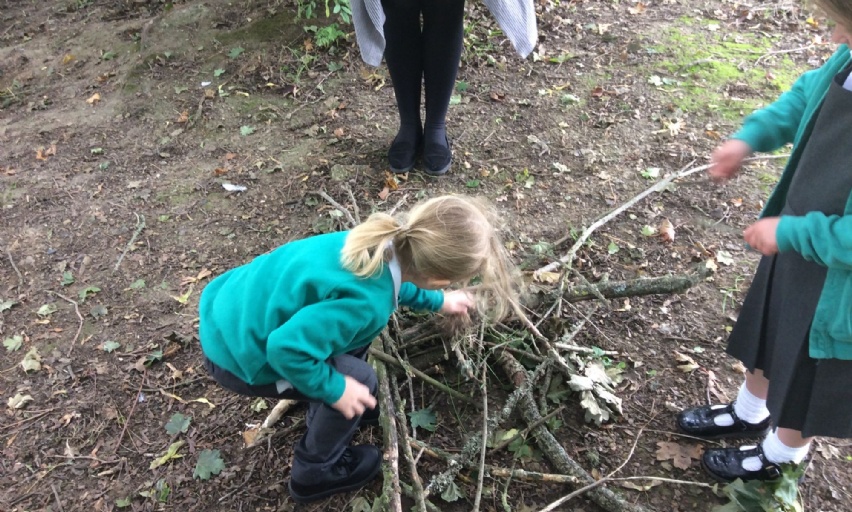 We have completed our first week of full days in school! You have done brilliantly being in school all day and we have enjoyed having lots of fun in the afternoons! Make sure you get plenty of rest this weekend as you will be feeling very tired.
This week we have been continuing to practice our name writing and have been focusing on our letter formation to make sure we are controlling our writing. We have also been looking at the book 'Goldilocks and the Three Bears' to start our topic of Traditional Tales. We enjoyed acting out the story as well as creating our story boards.
Our number of the week this week was the number 1. We enjoyed exploring the number one and going on a number hunt to see if we could find 1 of something, as well as noticing items that look like a number one at school. We are continuing to practice our counting to 20 using our counting songs.
We spoke to Jigsaw Jenie again this week about how to be calm and introduced our 'calm me time' using our special calming chime. We were amazing at focusing on our breathing. We spoke about how we can resolve issues calmly in the classroom and practised our calm voices.
We have been practising our Makaton signing when we do our music sessions this week. We even asked Mr Pike to come and watch us perform our signing to him. He was very impressed and wanted to learn the signing too.
In RE we have been looking at how we are all special in different ways and spoke about how our Mummies and Daddies are special too. We had lots of amusing answers, including 'they make me laugh lots' and 'they have great children'.
STAR OF THE WEEK:
Our Star of the Week this week is ... Arthur! Arthur has shown kindness towards everybody, always has a cheery face in the mornings and always tries his best in the classroom and around school! Well done Arthur, Oliver the Owl can't wait to come home with you this week!
Parent Volunteers:
Any parents who wish to volunteer to come in to read with children during the week, please could you let me know as that would be very helpful.
Reminders:
Remember to come into school on Monday and Thursday next week in your PE kit and don't forget your packed lunch if you need one.
We have lots of lost property in the classroom (jumpers and cardigans). Please check if we have any of your child's belongings and label your child's things so we can easily return them.
Tapestry forms: I'm still missing a couple of Tapestry forms, meaning you won't have access to your child's account. Also, don't forget to activate your account if you have not done so already, check your email for the link to sign up. Also, please remember to add anything you wish about your children's learning and experiences at home.
Remember to check your child's bags for books and letters etc. Homework is sent out every Friday so their yellow folders need to be back in school by then.
Reading books are changed every Tuesday so please send them in to school on Tuesday's along with their reading records.
Check the School Newsletter for updates and important information.
Please use the one way system we are using at school to maintain social distancing.
Here is to another week of fun and learning in Owl's class.
Miss Reed x