Autumn 2 Week 2 & 3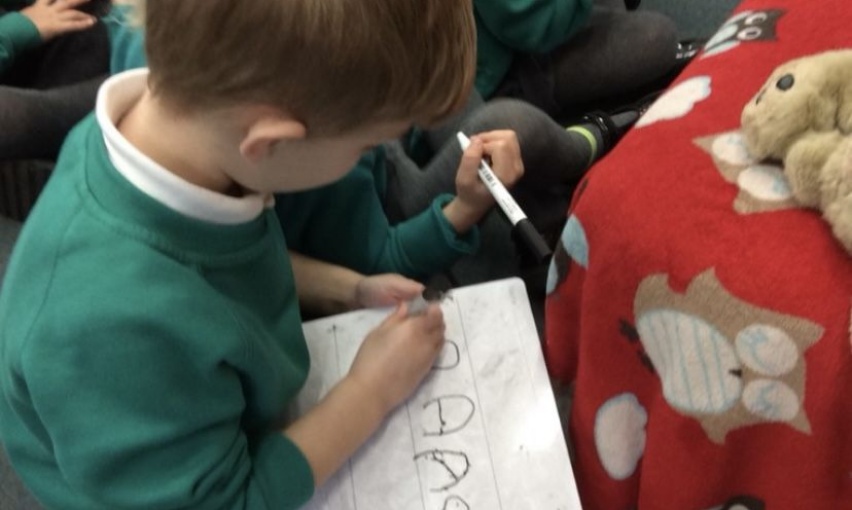 Owls have been brilliant over the last couple of weeks! We have been learning about Diwali and the festival of lights. We have enjoyed learning about the story of Rama and Sita and even drew the characters from the story. We enjoyed making our Diwali lamps out of card and decorations and have been using clay this week to create candle holders! We were brilliant at using our hands and fine motor skills to mould the clay into the shape. We enjoyed some Diwali themed music and acted out the story of Rama and Sita. Owls have been wonderful when learning about different faiths and cultures and always ask brilliant questions.
In maths this past couple of weeks we have looked at the number 4 and 5. Owls are amazing with their mathematical language and are using their hands and objects to already make calculations up to the number 5!
This week in phonics we have been looking at even more sounds and have enjoyed using the whiteboards in sessions to write those sounds down. Mrs Henshall joined us for a phonics session and loved to hear our songs and rhymes to help us with our learning of the sounds.
In PE we are continuing with our gymnastics and the Owls are brilliant gymnasts! Whilst we are focusing on balances, Owls have been super sensible and have shown great listening skills in the sessions.
In RE we are looking at Incarnation and the story of Christmas. We will start to be looking at the baby Jesus and why he was such a special baby to the people around him.
Star of the Week:
Our star of the week for week 3 is ... Oscar J! Oscar always shows great effort within school and is always kind to his friends and adults in class. Well done Oscar! Oliver the Owl is looking forward to coming home with you this weekend.
Reminders:
- Please remember to read with your child each night and log it in their reading records. Ensure their books come back in to school each day so that an adult in school can read with them also.
- Please ensure homework folders are in by Friday of each week.
- Please continue to make a single file line at pick up. That way we can ensure social distancing is happening and that the children can leave smoothly and safely.
- PE is on Monday and Thursday this term.
- This Friday reception will be taking part in a multi-skills event ran by Chippenham Sports Partnership so will need to come into school on Friday in warm PE kit too.
Thanks for another great week Owls! Have a lovely weekend and see you on Monday.
Miss Reed x