6th November 2020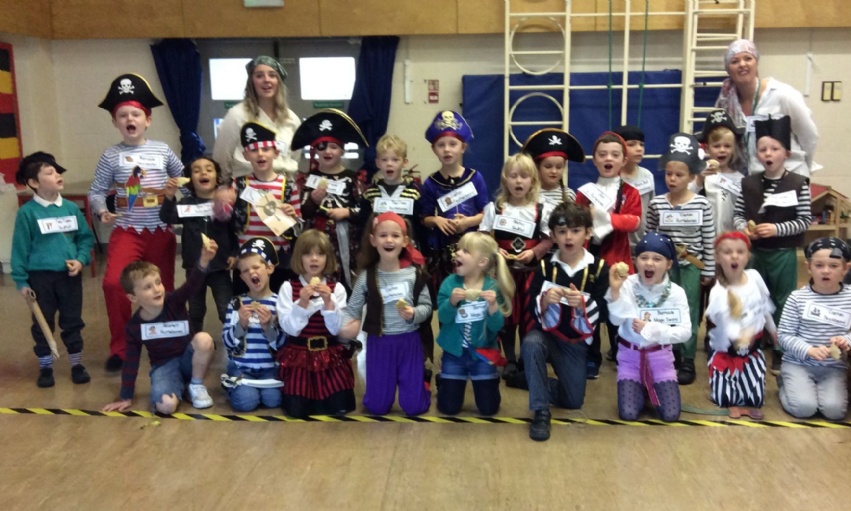 I hope you all had a restful half term and an enjoyable first week back at school. It has been lovely hearing about what you got up to over your week and a half off and for Halloween.
It was a pleasure 'avin you aboard for pirate day on Tuesday. Thanks again to parents for the amazing outfits, they all looked amazing. We explored the life of a pirate on board a cramped ship, sang pirate songs, did different jobs and ate a pirate 'feast' (although there were mixed opinions on the hard-tack biscuits). Our treasure hunt took us across the Atlantic Ocean, through the Caribbean Sea to the island of the Bahamas, which we will be learning about and comparing to our local area over the next term. I have atached some more photos at the bottom of the page.
In English this week we have been looking at the letter we found in the chest from the pirate and we have looked at the different features of letters. We have practiced our number bonds to 10 again and looked at how we show our calculations on a number line. We have started a new gymnastics unit in PE and had lots of fun recreating different animal balancing poses.
Celebration
In Celebration this week, we celebrated Dulcie for showing this term's new value of compassion by being kind and considerate to all members of the class. We also celebrated Arthur for trying really hard in his writing about pirate day.
Other information
Next Friday the 13th, children can come dressed in non-school uniform and wear spots or stripes for a £1 donation that goes towards Children In Need.
Have a lovely weekend and stay safe,
Miss Smith x