Autumn 1 Week 3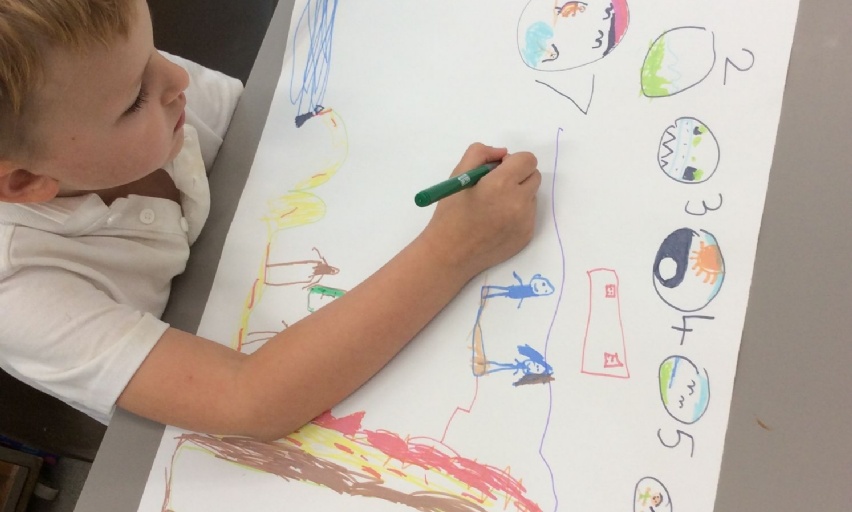 What have we been up to?
Kestrels have had another fabulous week of learning and have been showing just how grown up and responsible they are now that they are in Year 2.
This week in English and Phonics we have been looking further at our book 'The Queen's Hat' and began to plot the story as well as think about what a story must have when we write them. We were great in phonics when re-capping the /ee/ and /ae/ sounds as well as focusing on our tricky word rhymes.
In Maths we have been super impressive, building up our independence and perseverance. We have been using different resources to add 2 digit numbers such as number lines, bead strings and 100 squares. Chase even showed off these skills in celebration assembly when Mr Pike chose him to add up some house points!
In Art we have been focusing on our paint techniques and tools. We tried using watercolours with paintbrushes and sponges and practised our brush strokes, stippling, sponge dabs and even used our fingers to paint.
In RE this week we looked at the creation story and how Christians believe the world began. We hared that it was ok to have different beliefs and that we show respect to the beliefs when learning about them. We created our own giant 'Creation Week' posters, displaying our understanding of what we learnt through the creation story.
We have also enjoyed being scientists, exploring the school building and grounds to find some materials to investigate.
Another fabulous week of learning Kestrels!
Reader of the week:
Each week we are choosing a subject to celebrate by selecting a person for an achievement award. This week our Reader of the week is ... Walter! Walter has shown a great effort this week within his reading and has even brought in books to share with the class as he has enjoyed it so much. His perseverance when reading with adults in the class has shone through this week. Well done Walter!
Star of the Week:
Each week a star of the week will also be chosen to celebrate, focusing on the three school promises we have made; being ready, respectful and responsible. This week's star of the week is ... Chase! Chase has tried very hard this week and has always shown himself to be ready, responsible and respectful. He has tried his best within all of his learning and was particularly great in hockey with Mr Peters. Well done Chase!
Reminders for next week:
Please bring in reading records and reading books each day. The children now change their own reading books when they need to as they are Year 2 it is now their responsibility to do so when they have finished their books. We will assess reading levels when a teacher reads with the children weekly.
Please bring in a water bottle each day.
PE days this term for Year 2 are Mondays and Wednesdays.
Homework has not been set again this week due to the setting up of Teams online. Please focus on reading at home with your child until this is up and running.
Thank you Kestrels for another fab week! Have a lovely weekend and I will see you on Monday!
Miss Reed x