Class Blog
Take a look at all the wonderful learning we have been doing in Ospreys Class!
P.E. Lessons for Term 3 will be on Wednesday & Friday
21.01.22
Our journey round The Americas continued this week as our hero, Tom, cycled through Chile, Bolivia, Peru and Ecuador. We discovered that Ecuador means Equator in Spanish and it got its name because it sits exactly on the equator. We learned about the floating villages on Lake Titicaca, the hidden Inca site of Machu Picchu and the beautiful green waters of Laguna Verde with the impressive geysers!
The end of the week was even more exciting because we were visited by the talented musicians from Rocktopus. They helped us to create our own song and dance. It was brilliant fun and I was really proud of how well Ospreys performed.
07.01.22
We have had a great first week back in Ospreys Class. Our whole school geography focus is on weather and Year 3 are looking at the weather in Florida. We are finding out how the geography of Florida affects it's climate and how this compares to Wiltshire. We have chosen to study The Boy Who Biked The World (Part 2) by Alastair Humphreys in English as the basis for our writing of information texts this term. The story is about Tom who is cycling through The Americas so it links perfectly to our topic. If your child has a copy of this book, they can bring it in and use it in class during our lessons.
16.12.21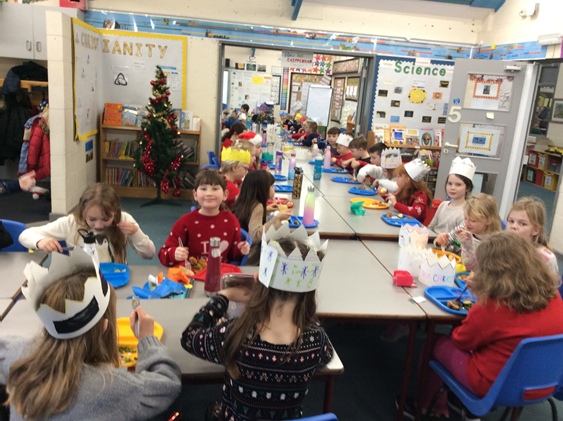 Yesterday, we joined with Hawks Class and had a joint Christmas lunch. We pulled our crackers and sang Christmas songs. It was such a great time and Ospreys looked so smart in the hats they had made that morning.
10.12.21
This week we performed our nativity play, 'A Midwife Crisis' to an real audience! Firstly, we began by performing to KS1 and then Year 5 & 6 on Monday. Everyone was so impressed by our acting and singing. We felt much more confident afterwards. On Wednesday, it was time to show our families! It was great to see how the smiles on the audiences faces. The children said they felt so proud, and Mr Pike said he loved the humour in our play.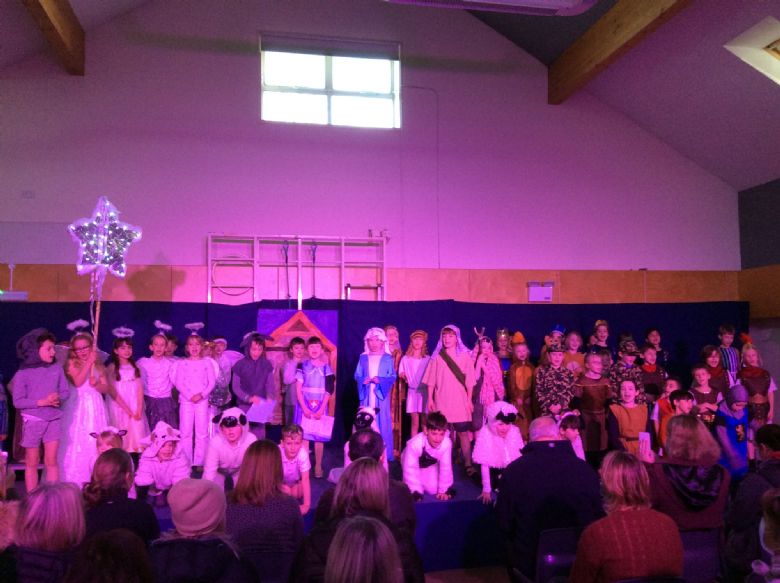 03.12.21
In English this term, we have been looking at writing to argue and inform. We have learned the standard layout of a letter and thought about selecting the most persuasive vocabulary. Ospreys were also able to incorporate their prior learning of paragraphs to make their letters easier for the reader to understand. Finally, we wrote letters to Mr Pike and Miss Reed to persuade them to do various things. Ospreys' requests ranged from purchasing more PE equipment to introducing 'Pancake Tuesday'!
We finished the week on a high by taking part in the Santa Run which set off from Hardenhuish School and finished at Sheldon School. All the children had a wonderful time and gave their best during the race so fully deserved the hot chocolate and biscuits which were given out at the end. We all entered into the spirit of the run by wearing our best Christmas jumpers and hats. Here is a photo of us warming up before the run.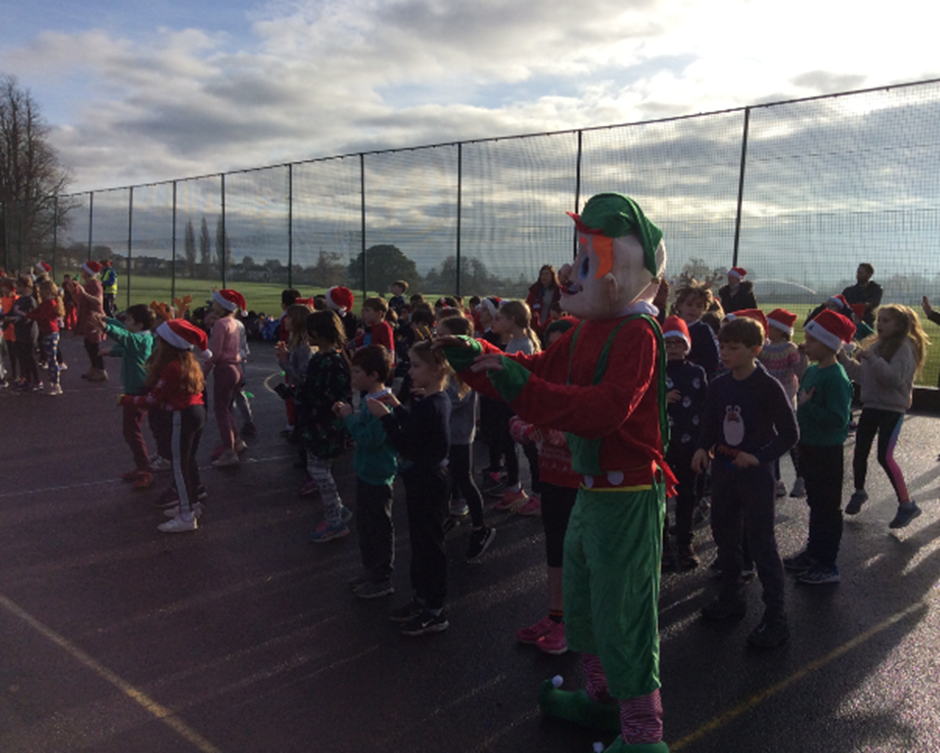 26.11.21
Our new maths focus of multiplication and division started this week. We have been building on our KS1 learning by using the most efficient method to calculate the answer, using the inverse operation and commutative law to help us.
We finished off our history topic by answering our 'big question' of 'How has Chippenham changed?' We compared a map of Chippenham from 1840s to a modern map of Chippenham. Take a look at the changes for yourself...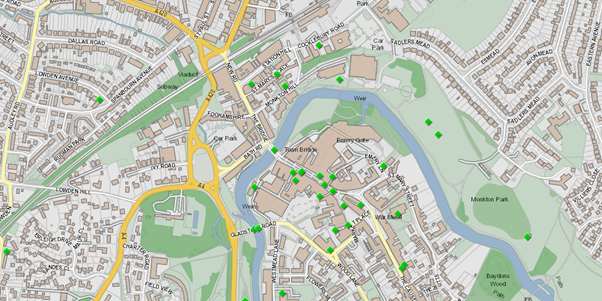 We also thought about why there were no Anglo-Saxon maps for us to use. We then looked at artist impressions of what Anglo-Saxon Chippenham looked like and compared houses, churches and roads to what we see today. Here is an image of what we think Anglo-Saxon Chippenham looked like ...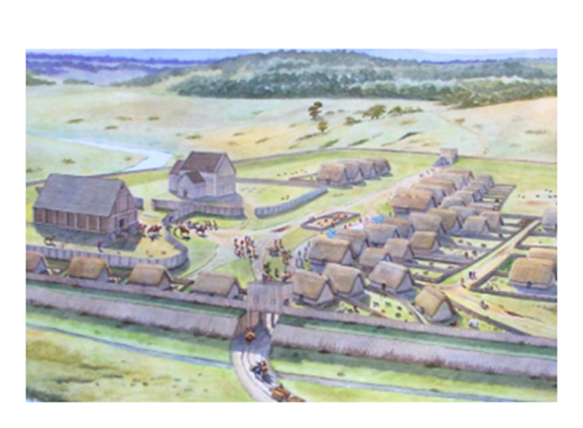 19.11.21
We showed our support for Children in Need today at By Brook Valley School by wearing something spotty. Thank you parents for helping your child with this. We had a great discussion about all the amazing work that Children in Need do.
In French lessons this term, we have built upon our greeting vocabulary by learning how to say the days of the week and months of the year. Perhaps your child could tell you what day it is today?
12.11.21
Our focus in PE this term is dance. It is wonderful to see the enthusiasm and creativity Ospreys Class has towards our lessons. Some moves Mr. Peters has shared with us have been quite tricky to master, but everyone has persevered, so well done everyone!
We continued to investigate our big science question of 'How do we see?', this week. After learning how reflections work, we came up with some uses for reflective materials and realised their importance in keeping us safe. We put our theories about what makes a good reflective material to the test by carrying out a practical experiment on different materials. Take a look!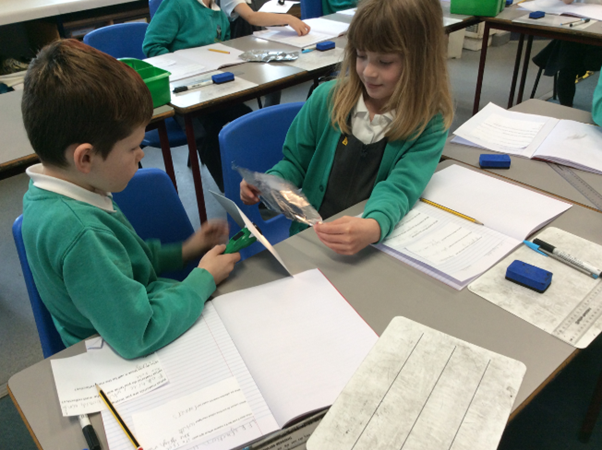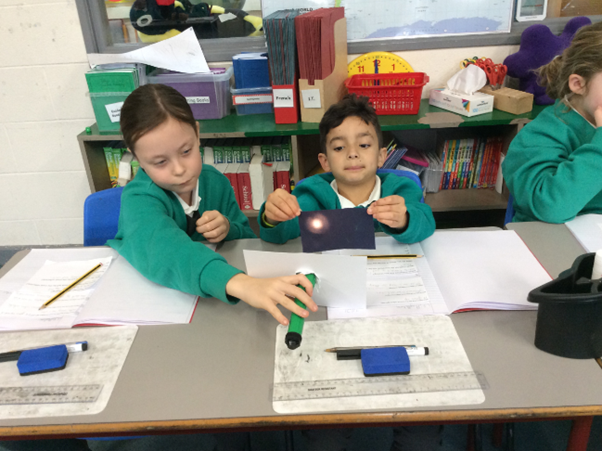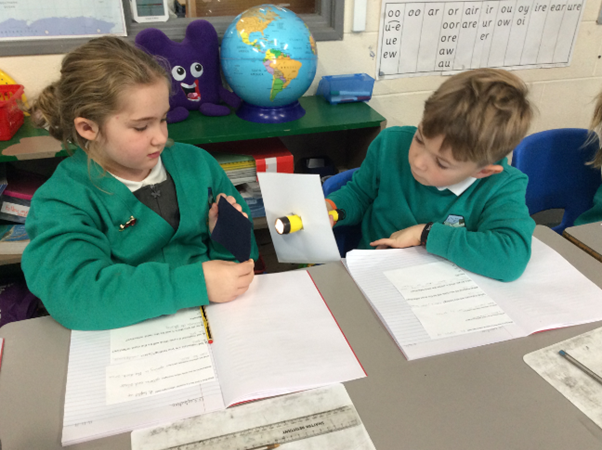 05.11.21
Welcome back to the second half of the autumn term. We started our new topic in science this week and our 'big question' is 'How do we see?' We will be lots of practical investigations to help us answer our question.
In RE, we are learning about The Trinity. We started by looking at the symbolism of water and the importance of water in Christianity. One of the examples we looked at was the washing away of sins during the baptism service. We read about the baptism of Jesus in the Gospel of Matthew (we also discovered that gospel is an Anglo-Saxon word meaning good story!). After brainstorming adjectives to describe water, we went outside to write these in chalk on our playground. We finished by washing away the words with water.
P.E DAYS FOR TERM 2 ARE MONDAY AND WEDNESDAY
15.10.21
Hawks and Ospreys went on a trip into Chippenham this week to learn all about the importance of our local area during the Anglo-Saxon period. We learnt about why the Anglo-Saxons came to Chippenham, and discovered it was mainly due to the fertile land which was excellent for farming. Another advantage Chippenham has is the River Avon which made travel easier and created a defensive barrier from the Vikings. Our guide Elaine told us that Avon is the Anglo-Saxon word for river, so River Avon means river river! We loved hearing about the battle that occurred between the Anglo-Saxons and the Vikings. It happened in Chippenham on the 12th night 878AD, when Kind Alfred The Great was celebrating the wedding of his sister who got married in a church in our town. We even saw a Viking stirrup which was lost in the battle. It was discovered in a local stream many years later and is now on display in Chippenham museum.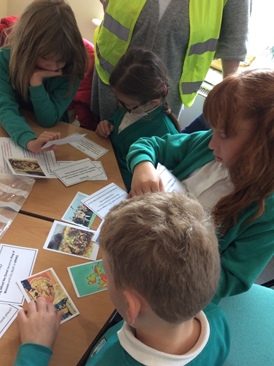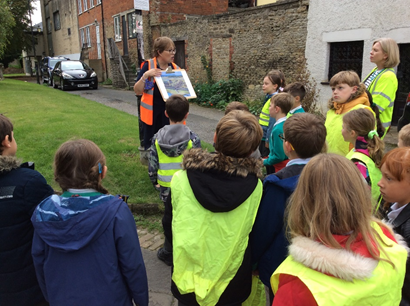 08.10.21
Yesterday was National Poetry Day, and we celebrated by sharing our favourite poems. Thank you so much for supporting your child to select a poem to bring in to class to share with us all. Every child who read out their poem to the class performed it confidently and with style! I was very proud of them all.
On Wednesday, we came together as a whole school via Zoom to celebrate Harvest Festival. It was such a lovely opportunity to see what each class had done. Ospreys Class had researched Harvest celebrations around the world. Every child shared their knowledge clearly and confidently. Well done, Ospreys.
01.10.21
We have had such a busy week in Ospreys Class! Our preparations for our Harvest Festival celebrations are going brilliantly. All the children have learnt the song words, and it is clear that they have been practising at home so thank you to all the families for supporting them with that. We had a visit from the local Road Safety Officer who talked with us about the importance of being safe when out walking or cycling. Ospreys Class listened carefully and asked valuable questions during our session. I was so proud of them.
In maths, we have started our new topic of addition and subtraction. We are using base 10 resources to help us see what happens when we use the column method and the column goes over 9. Have a look at Ospreys' mathematicians!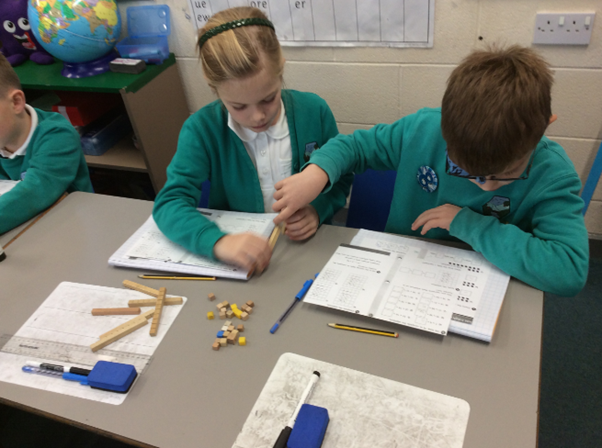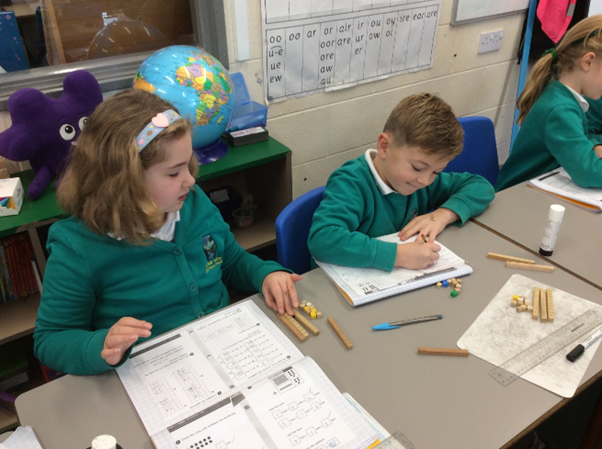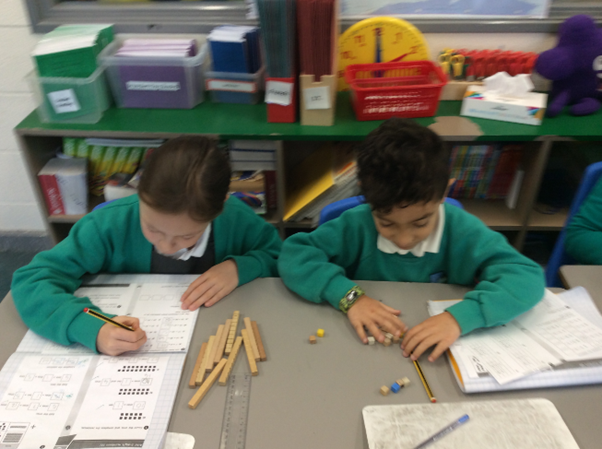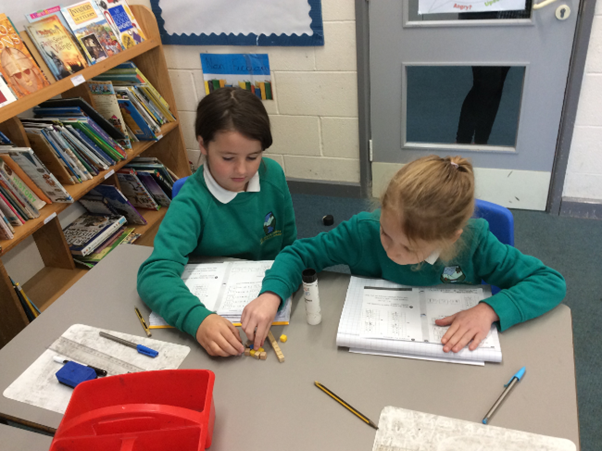 24.09.21
Our investigation into forces has moved onto the invisible magnetic force. We made this visible by sprinkling iron filings onto whiteboards and watching how they were attracted to the magnet we held underneath. We also went outside with a compass each to investigate the force of the Earth's magnetic field.
Just like the Anglo-Saxons, we made our own natural dyes in Forest School and created a rainbow of colour from things we foraged from our school grounds.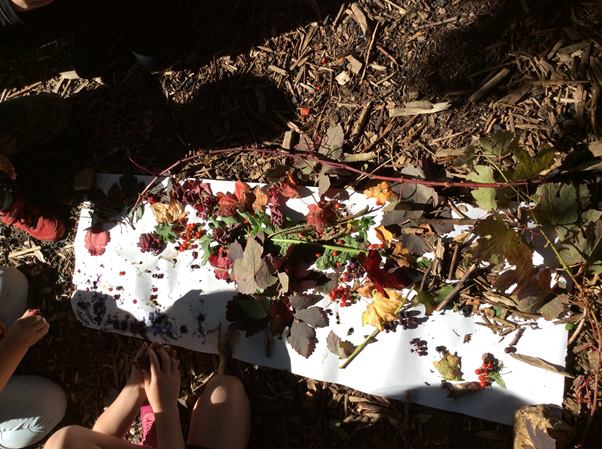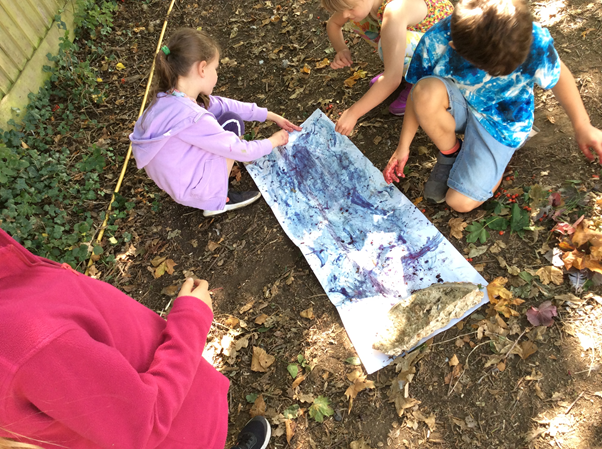 17/09/21
We had our first Forest School session of the year today. Linking to our history topic, we thought about how the Anglo-Saxons would have felt when they landed in England. We decided our first priority would be to make shelter. Mr. Summers was so impressed by how well the groups worked and how willing they were to share expertise between the teams. Once we had our shelters, we made fire and roasted marshmallows.
In science this week, we tested different materials to see which had the lowest friction and would be the most suitable for our Hot Wheels racetrack. After discussing the importance of conducting a fair test, Ospreys were very scientific in their experiments and recorded their findings accurately. Finally, we wrote our letter to Hot Wheels and reported our findings to them.
03/09/21
Although we have only been in school for 2 days this week, Ospreys Class have already completed so much brilliant learning. We investigated a bizarre incident that occurred on the school field over the holidays. Using our fantastic vocabulary skills we created a whole class word bank of adjectives to describe the clues we found. We then planned and wrote a story to explain what could have happened. Here is a picture of what we found.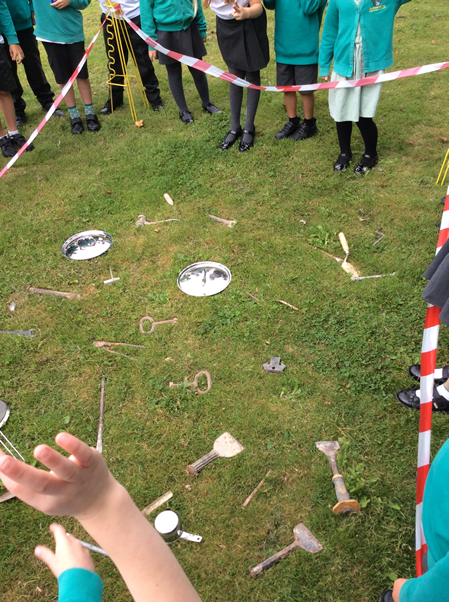 We also learned about the Anglo-Saxon story of Beowulf. It is a very exciting story that was told around the fire rather than read as most Anglo-Saxons could not read. There was lots of tricky vocabulary that we researched. Do you know what a 'Thane' is? Ask one of Ospreys Class, and they will be able to tell you!