Class Blog
Take a look at all the wonderful learning we have been doing in Ospreys Class!
17/09/21
We had our first Forest School session of the year today. Linking to our history topic, we thought about how the Anglo-Saxons would have felt when they landed in England. We decided our first priority would be to make shelter. Mr. Summers was so impressed by how well the groups worked and how willing they were to share expertise between the teams. Once we had our shelters, we made fire and roasted marshmallows.
In science this week, we tested different materials to see which had the lowest friction and would be the most suitable for our Hot Wheels racetrack. After discussing the importance of conducting a fair test, Ospreys were very scientific in their experiments and recorded their findings accurately. Finally, we wrote our letter to Hot Wheels and reported our findings to them.
03/09/21
Although we have only been in school for 2 days this week, Ospreys Class have already completed so much brilliant learning. We investigated a bizarre incident that occurred on the school field over the holidays. Using our fantastic vocabulary skills we created a whole class word bank of adjectives to describe the clues we found. We then planned and wrote a story to explain what could have happened. Here is a picture of what we found.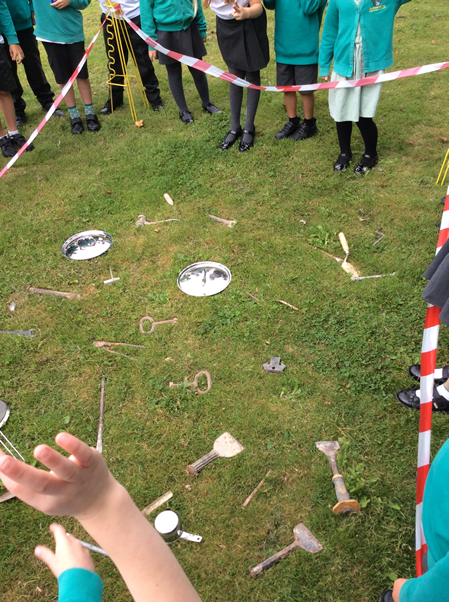 We also learned about the Anglo-Saxon story of Beowulf. It is a very exciting story that was told around the fire rather than read as most Anglo-Saxons could not read. There was lots of tricky vocabulary that we researched. Do you know what a 'Thane' is? Ask one of Ospreys Class, and they will be able to tell you!