Class Blog
01/12/23
By Brook Valley School held our annual Santa Run today. It felt really Christmasy too with lots of frost on the ground. After our run, we had hot chocolate and Christmas biscuits to warm us up. It was so much fun!
We were especially thankful for our treats after the Santa Run because we had been learning about wartime rationing as part of our topic on WWII in History. We showed our knowledge in double-page fact files. Take a look at some examples of our work...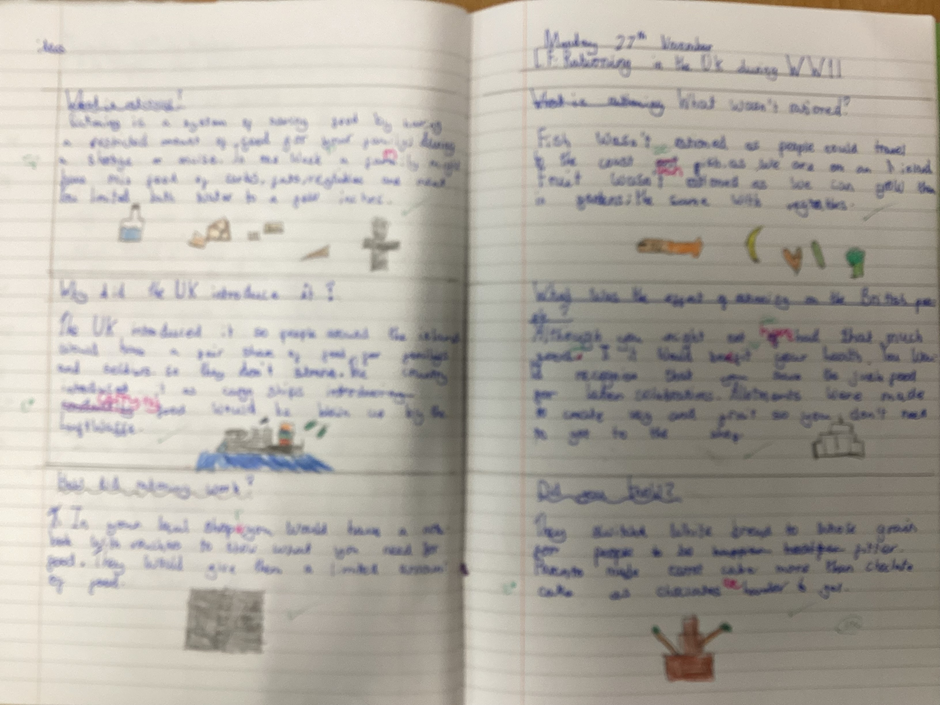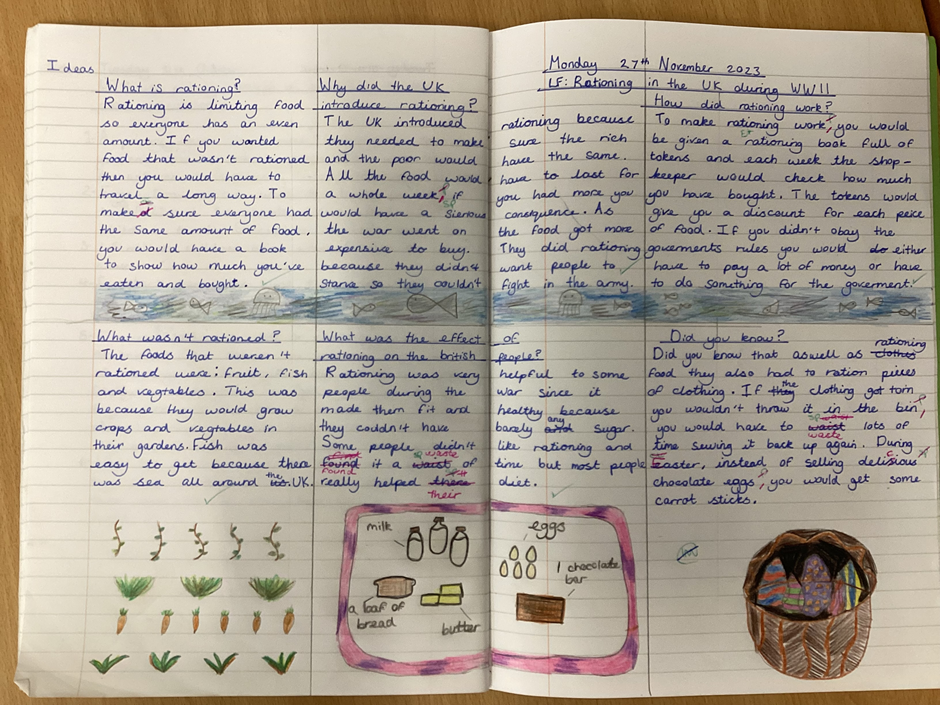 24/11/23
To prepare for our class assembly on Friday, Eagles have been busy writing reports about our time at PGL. We have been keeping the reader in mind when writing and tried to think about what our audience would like to know. We have used a mix of simple, compound and complex sentences to make our writing flow and to capture our readers' attention.
In our science lessons on our topic of light this week, we explored the anatomy of the eye. We learnt the parts of the eye and how they all work together to transmit light into electrical signals which pass from the optic nerve into the brain.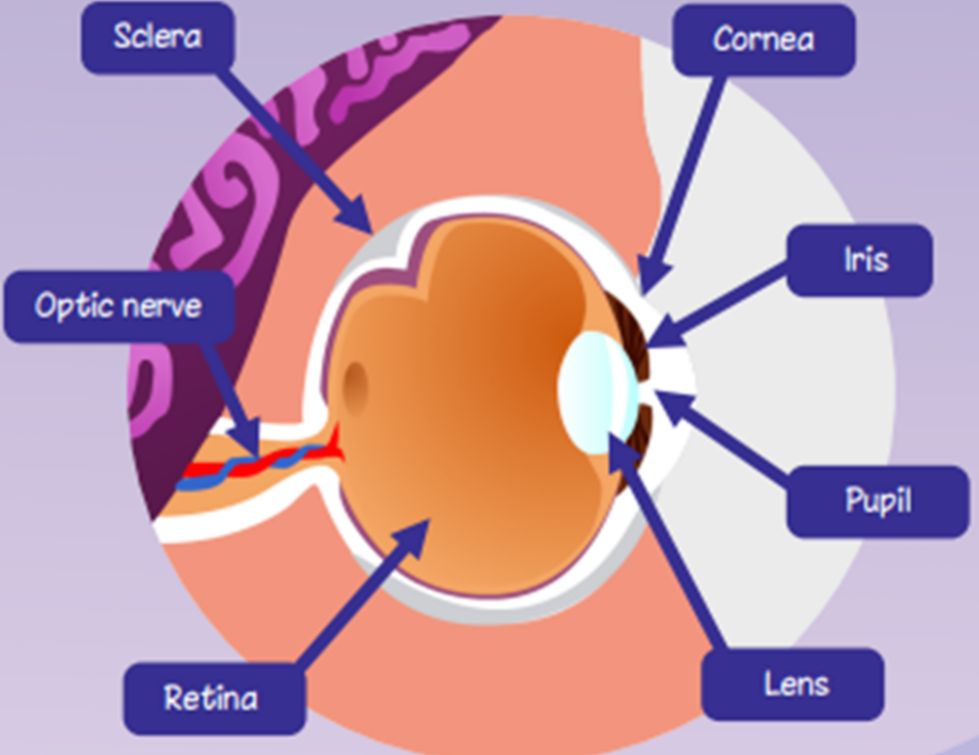 17/11/23
It is Anti-Bullying week, and we kicked things off with Odd-Sock Day on Monday. Take a look at our crazy socks!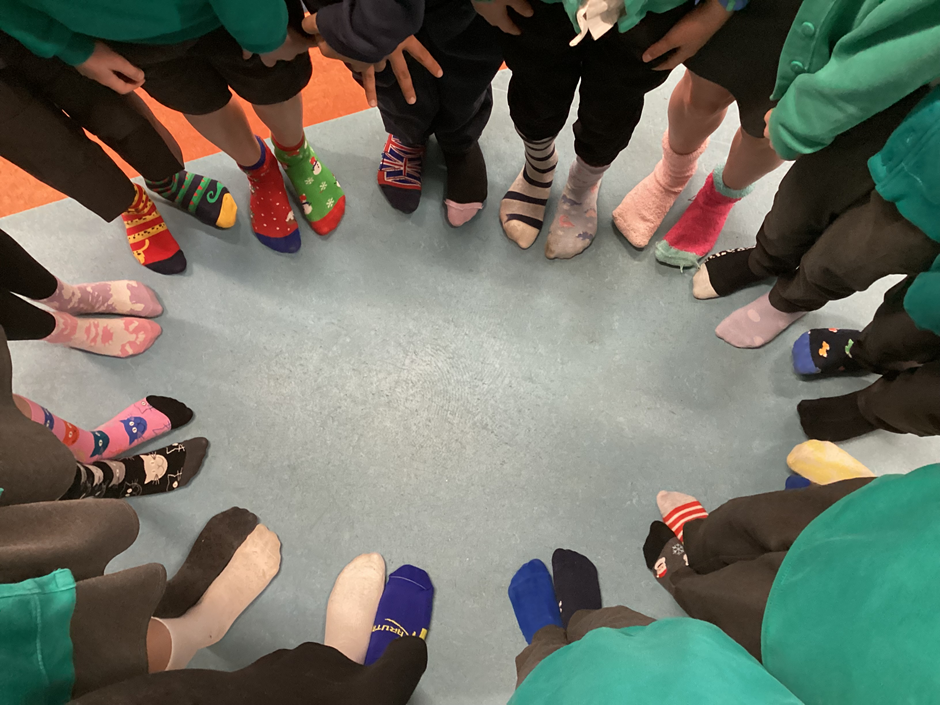 It was also World Kindness Day on Monday, which linked perfectly to our school motto of:
Be kind
Be brave
Value everyone
Every class made bees, which will be on display in the corridor. Eagles Class sewed their bees. Take a look...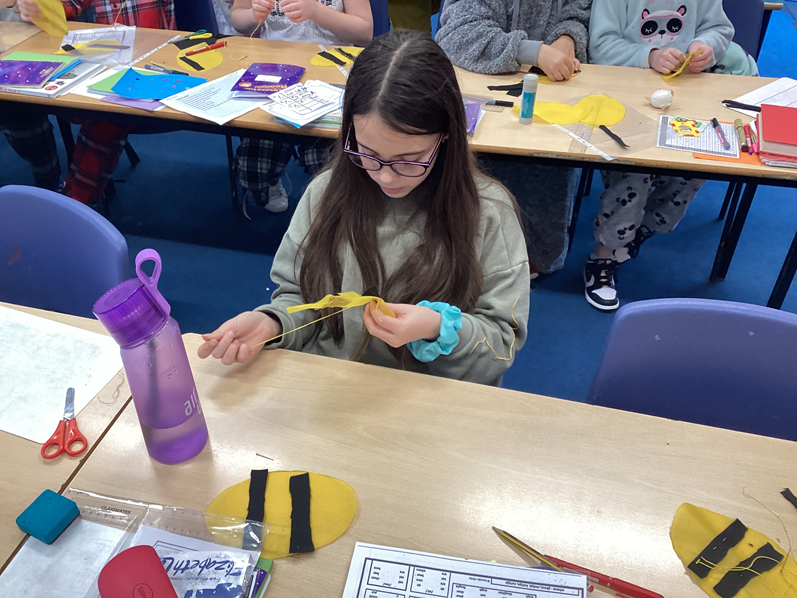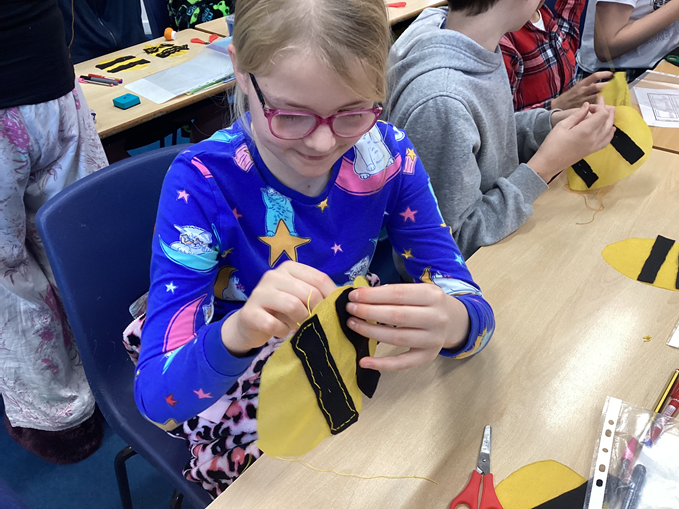 We thought about the difference between 'banter' and bullying. We agreed that sometimes people dismiss mean comments as 'banter' but if the comment upsets the other person, then it is not OK! We also discussed the reason why people become bullies and brainstormed ideas for helping both the bully and the person being bullied. Together, Eagles wrote a poem to record our ideas.
Poem to a bully
I want you to understand how you make people feel
Your excuses for 'banter' have gone too far
Stop hurting people and you will stop hurting yourself
Use your trusted adults to bring you positivity
Don't hurt others, help others
Why do you bully?
Bully, bully, it hurts a lot
Bully, bully, please stop
Bullying is not nice
Your heart is misshapen but your soul is just right
13/10/23
We used Maslow's Triangle this week to think about the difference between our needs and wants. This PSHE lesson linked really well with our Christian Value of the term which is 'Thankfulness'. Our new worship leaders explained that if we felt thankful or saw others being thankful, we could write about it on a leaf shape and hang it on the Worship Tree in the hall.
We completed our RE topic on Islam by answering the big question of 'What is the best way for a Muslim to show commitment to God?' We were able to use our knowledge of the 4 Pillars of Islam to fully answer this question using all the new vocabulary we have discovered this term.
During our lessons in gymnastics this term, Eagles Class learnt how to use their bodies to create different shapes and balances. They have worked hard to move smoothly and fluidly between moves to show a contrast and changes of speed. They showcased their routines this week. I was so impressed with their focus and perseverance!
29/09/23
We began our new maths focus on the 4 operations this week by playing 4 in a row on hundred squares. Eagles Class displayed some fantastic tactical thinking to prevent their opponent getting 4 numbers in a row. It was very exciting!
Eagles' scientists planned their investigation into the dying process. They thought of their research question, planned the experiment and listed the materials needed. They also made predictions about the final outcome. In preparation, the fabrics were soaked in the mordants and dried ready for the dying experiment next week.
Finally, we put the finishing touches to our watercolour artwork which we can't wait to share with you at our Harvest service on 5th October at Yatton Keynell Church. Eagles class got into groups and each chose one of our Christian values to use as inspiration for their watercolour painting. They then researched Bible quotes to match their value and wrote these onto their artwork. Once we have shared the paintings in the Harvest service, they will be displayed at school for everyone to enjoy.
15/09/23
We have been building on place value knowledge in maths this week by comparing and ordering numbers to 10 million. We have started to examine negative numbers too.
In science, we thought about the definition of science and how important it is in all aspects of our lives. Our topic this term is chemistry. We are doing a project to investigate the dying process. We thought about the variables which are; different resources we could use to dye materials, the various fabrics we could use and the types of mordant to fix the dye to the material. We then carried out chromatography tests to show that colour is more complex than we thought! We discovered that black dye is actually made from many different colours which separated out on the chromatography paper when it absorbed water.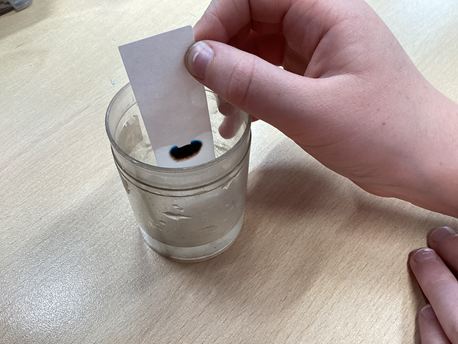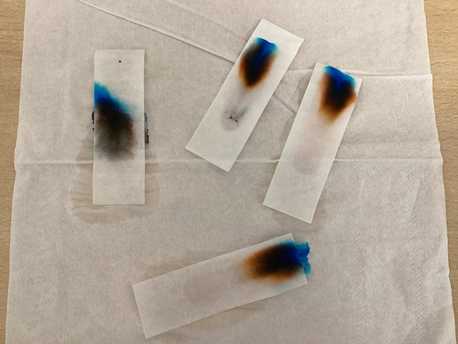 08/09/23
What a fantastic start to Year 6 for Eagles Class! We started to read 'Letters from the Lighthouse' which is the book we are basing our English writing on this term. It is set during WWII so links perfectly to our History topic. To prepare ourselves for our learning on WWII, we discovered what life was like for children in the 1930s. Lots of things shocked us like corporal punishment in schools and using a tin bath in front of the fire at home!
Ms. Davies took use to explore all the new books in our school library. These have been bought with money from FoBBVS and funds raised at events like class cake sales. As weather was so glorious, we took our choice of book from the library to read in our Y5&6 outside area.